1 lb Single-Origin 100% Arabica Coffee from the Hacienda Isabel in Puerto Rico
$ 35.00
The coffee you LOVE.
As gourmet as it gets.
FREE SHIPPING on all orders!
Single-origin, 100% Arabica specialty coffee from the Hacienda Isabel, located in the lush mountains of Puerto Rico. This coffee is grown and harvested right in our Hacienda; it is neither blended nor modified in any way, so all of its original and distinct flavor makes its way from our farm right into your cup. Its flavor can be described as non-bitter, bold, sweet, and almost chocolaty. It is simply mouthwateringly exquisite, and we promise it will be the best coffee you have ever tasted—that is the Hacienda Isabel promise.
Fresh roasted every month. Others treat your coffee like a commodity, we treat your coffee as art.
Perfect for your espresso.
*Free shipping offer only applies to all orders delivered to addresses within the US and territories. Packaging may vary.
View product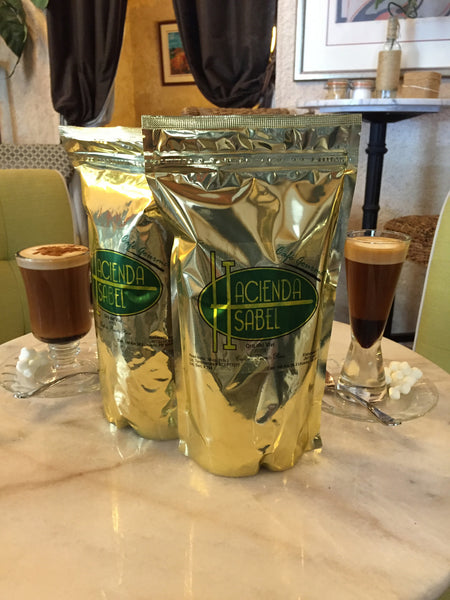 About Us
Hacienda Isabel is the Puerto Rican producer of fine gourmet coffee. All of our coffee is grown and processed in our hacienda at Utuado, Puerto Rico, in the most mountainous region of the Caribbean island—where the height, humid atmosphere, and nutrient-filled ground make it the perfect location for coffee growing. Unlike almost all other coffees, we do not outsource our beans so we are able to watch over the entire process from start to finish. Our store is located in Old San Juan, the historic capital of the island. Our coffee is regarded by most who try it as the best they have ever had; and this is for good reason, since our flavor (the product of our unique location and complete oversight of the growing process) is difficult, if not impossible, to beat.
The hacienda was founded in the late 19th century, back when Puerto Rico was still a Spanish colony, but it was not until current owner—Isabel Torres—acquired the hacienda from her father, that it got the name Hacienda Isabel. Upon taking ownership, Isabel began the construction of an estate-house—full with its accompanying coffee processing plant and guesthouses. Upon the completion of the hacienda's infrastructure, Isabel organized large brigades of workers with one common goal—to pick all the perfectly ripped red coffee beans throughout all of her farm.
Her dream—to make the world's best and purest coffee, and to put Puerto Rico on the gourmet map. Her plan—to cultivate Arabica coffee following the tradition set by her grandfather, and process it through state-of-the-art peeling, cleaning, drying, and roasting machines. Soon after, she started to realize why the coffee from her Hacienda tasted so good; the Hacienda Isabel was located in a unique mountain where altitude, humidity, soil nutrients, and saline trade winds, combined together in perfect harmony to give her coffee its particular taste and aroma. That was in 2003, and now the Hacienda Isabel, proud receiver of many accolades, prides itself in having a coffee unparalleled by any other.
Constantly visiting trade shows, Isabel works day and night to bring her coffee to everyone she can. Slowly, first, her coffee started gaining recognition, when those who tried it exclaimed in shock "Wow! This coffee might just be the best I've ever had!" With a sweet smirk, she would respond "Thank you!" and proceed to tell them more about her story, her coffee, and her vision...
After years of hard work, Isabel set up a network of mobile stores. These old-fashioned, yet elegant carts carried on with them Isabel's vision of superb quality and the unique experience of high-quality coffee. Her charming retail tactics did not take long to be noticed by Puerto Rico's coffee-cultured residents. Within a year she had developed a concept unique to the Puerto Rican hacienda. Her coffeehouse, the work of years of patience and perfectionism, was built. It features the design and elegance on a Puerto Rican hacienda, faithfully replicating its comfort and traditional style, and above all—its love for coffee.
Isabel has managed to create a coffee culture of elegance and superb quality in her home—Puerto Rico. Her mission now is to propagate that vision to all corners of the world. One step at a time, Hacienda Isabel gains recognition in the homes of those that love it best—our loyal and always happy coffee drinking customers. And still, Isabel works with the Hacienda Isabel family to grow above and beyond any expectation one could have of a perfect coffee.
Our coffee is the way nature intended it to be—and you, after tasting it, will soon understand why.
Join our family, bookmark us!